Arrival, how to get to...

Our address:
"Pod Szczupakiem"
("At the Pike")
Pension, Guest House by the Pile Lake
Ewa Schmidt
Pilawa 29a
78-446 Silnowo
Borne Sulinowo
Poland
mobile: (+48) 604 170045
phone: (+48) 94 3757551

-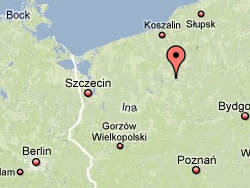 Pilawa - geographical position
enlarge
Pilawa
Pilawa village (former name: Pile) is located in the Drawskie Lake District (Pojezierze Drawskie), at the Pile Lake. Nearest larger towns: Borne Sulinowo, Czaplinek, Szczecinek. 156 km from the Polish-German border (Kolbaskowo-Pomellen).
You can see more maps (Google Maps) below.
By car
Generally you have to reach the road 20 (Stargard Szczecinski - Szczecinek).
The route from the Polish-German border (Kolbaskowo-Pomellen): Go by the motorway A6/E28 (direction Szczecin, Swinoujscie). When you reach exit to Szczecin (19 km, Kijewo) then go ahead by the same road. The road changes to 6/S3/E65/E28 (direction Swinoujscie). 7,5 km further you ought to change road to 142 (use left traffic lane) and go to Chociwel by old motorway from Berlin ("Berlinka" [Reichsautobahn]) and so on as below - the route from Szczecin.
The route from Szczecin: go to the road to Chociwel (142, "Berlinka", [Reichsautobahn] - old motorway from Berlin). Next go by the road 20 (direction Szczecinek). You will go through the following towns / little towns (not all mentioned): Chociwel, Wegorzyno, Drawsko Pomorskie, Zlocieniec, Czaplinek. When you leave Czaplinek then next will be village Lubowo and after few kilometers you have to exit right (behind a parking next to the Pile Lake). Exit is marked by the road sign (green arrow).
The route from Poznan: go to the Pila, then you have two possibilities: via Walcz by road 10 (direction Szczecin), next road 163 (direction Kolobrzeg), then in Czaplinek you have to change road to 20 (direction Szczecinek) and further as route from Szczecin. The second option is to go by road 11 to Szczecinek and next by road 20 (direction Szczecin). When you leave Silnowo, you have to exit left as marked by green arrow sign.
The route from Gdansk or Starogard Gdanski: go via Szczecinek by road 20 or by the road 22 (direction Walcz, Gorzow Wielkopolski), then before Jastrowie change road to 11 (direction Szczecinek) and next by the road 20.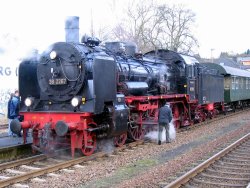 The old train
(Photo: Wikipedia)
By train
You can travel by train from Szczecinek or Szczecin (via Runowo Pomorskie). The train stops in Silnowo (3 km from Pilawa).
Direct trains arrive to Szczecinek from: Szczecin, Poznan, Slupska, Koszalin, Kolobrzeg, Leba, Warszawa (Warsow), Krakow, Torun, Bydgoszcz, Pila, Rzeszow, Czestochowa, Katowice, Opole, Wroclaw, Lodz, Wloclawek.
Details on site http://rozklad.pkp.pl/ or
http://reiseauskunft.bahn.de/bin/query.exe/en.
By bus (coach)
timetables: bus stop Szczecinek, bus stop Borne Sulinowo
By plane
Airfield in Borne Sulinowo
In Borne Sulinowo there is located former post-soviet airfield. Unfortunately, we don't know anything about the potential of low-cost airlines planning soon to open up scheduled flights to Borne Sulinowo ;-)
Information from site: http://dlapilota.pl/
See also airfield instructions: http://www.mikroloty.bornesulinowo.pl/instrukcja lotniska.htm
Airfield info:
53 34' 31.8" N, 016 31' 38.4" E, Elewacja/Elevation:143 m (469 ft)
RWY
12 - 30 / T / G / 400 X 30 / 120° - 300°
11 - 29 / B / C / 235 X 15 / 117° - 297°
Radio frequency:123,45 MHz
Navigational aids: wind cone at the air-shed.
Warnings:
Note: Please pay attention to the length of the runway during the planning of arrival. In case of disadvantageous conditions, there is a well maintained runway in Wilcze Laski (53 35 '44 "N, 016 42' 51" E) - direction north-east at a distance about 15 km. Please, check the activity of EP D22 zone in ASM-3 (06.10.2005 zone no longer exists).
Information: Friendly atmosphere guaranteed by enthusiasts from Aviation Assotiation in Borne Sulinowo.
Free hangaring. Contact: Mr Wieslaw Filosek, mobile: +48 506 434216.
Airfield in Czaplinek (Broczyno)
The former military airport with asphalt pavement. Until recently, closed, now managed by the Aviation Assotiation in Czaplinek (Czaplinek-Flying).
CAO (the Civil Aviation Office) category: "other place to take-off and landing", which means the maximum weight for take-off up to 5700 kg. In practice, the possibilities are much greater.
Airfield info:
53 31' 11.3" N, 016 17' 00.6" E, Elewacja/Elevation: 155 m (508 ft)
RWY
10 - 28 / airstrip with asphalt pavement / 2300 X 30 / 104° - 284°
The approach to flying strip free of hindrance with the meaning of the definition. In the area adjacent to the airfield there is a measurement mast with a height about 80 m. The mast is red and white and doesn't preclude to operate on the airfield in Czaplinek-Broczyno. NOTE: the lack of night lighting of the mast.
Radio frequency:none
Google maps: map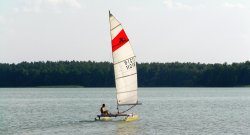 By sailing boat, water bicycle, canoe, swim
Through the Pile Lake ;-)
By foot
If you like... ;-)
Maps (Google Maps)